AirMagnet Laptop Analyzer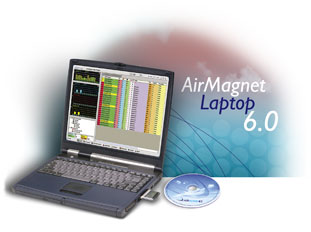 Buy AirMagnet products here at keenan Systems the wireless network experts. Our many customers large and small trust AirMagnet to keep their Wi-Fi networks secure and performing well. . We also stock the hard to find AirMagnet wireless network cards.
Don't buy AirMagnet just anywhere
We have the best prices.
We are an authorized AirMagnet reseller.
All products come with one year free updates and support.
We know the products inside and out and can answer detailed questions.
Click here for price quote or Call us at 860 202 9402
Laptop version 6.0 is a major upgrade with many new features including:
You can remotely connect to another copy of AirMagnet for offsite troubleshooting.
Support for New wireless cards including Centrino and Ubiquity
The ability to send remote notifications via email, SMS or pager.
Enhanced decoding of FTP, SNMP, TELNET, HTTP and POP protocols.
Laptop will be able to act as a remote sensor for Enterprise 7.0.
Click here to download a free demo
The is the industry's most advanced stand-alone solution for wireless security and troubleshooting. Built from the ground up to meet the challenges of 802.11a/b/g WLANs, the AirMagnet Laptop provides a direct automated analysis of any WLAN, proactively detects over 130+ network problems, and delivers a set of active wireless troubleshooting tools that simply aren't available anywhere else. The result, is an invaluable network management tool that gives IT professionals a transparent view into Wi-Fi and provides everything they need to quickly pin down any network problem.

AirMagnet Laptop ANALYZER 6.0

Security
Security is the most fundamental requirement of any network, and AirMagnet provides all the tools you need in a single application that goes anywhere. With the AirMagnet Laptop Analyzer you can:
| | | |
| --- | --- | --- |
| | | Immediately identify Rogue Devices using multiple methods. |
| | | Physically locate and remove Rogues using the Find Tool. |
| | | Insure every device in the network conforms to your security policy with support for WPA, 802.11i, 802.1x, VPNs, LEAP, PEAP, TKIP, MIC, FAST, WEP or others. |
| | | Proactively identify dozens of wireless attacks and hacks including DoS attacks, Dictionary Attacks, Wireless Intrusions, and the latest Queensland attack. |
| | | Detect a total of 54 security vulnerabilities and events. |
| | | Construct and manage detailed security policies through an intuitive policy management interface. |
| | | Keep your network protected while you troubleshoot with built-in authentication support for WPA, WEP, LEAP, FAST, PEAP, TLS, FAST and more. Learn more about compatibility. |

Performance and Troubleshooting
Security is only half the battle. The network must also reliably meet the demands of its end-users. AirMagnet provides active monitoring of the underlying causes of performance problems and gives IT the tools to actively test their network. This includes:
| | | |
| --- | --- | --- |
| | | Proactive identification of over 50 unique performance issues or problems. |
| | | Identification of problems unique to 802.11g and mixed mode networks |
| | | A suite of over 15 exclusive Active Tools that directly measure and identify the sources of problems in the network |
| | | Monitor 802.11e and Vo-Fi deployments |
| | | VoWLAN Tools designed specifically to address the challenges of running voice over Wi-Fi |
| | | Real-time displays of every Channel and Device including critical statistics and user defined graphs |
| | | End-to-End Connectivity Testing |
| | | Testing for compliance with established SLAs |
Integrated Reporting
The AirMagnet Laptop Analyzer is complete with a variety of reporting features
Sarbanes-Oxley Gramm-Leach HIPAA Department of defense RF freq channel SSID alarms access points
| | | |
| --- | --- | --- |
| | | Easily document your analysis sessions with a built-in professional reporting module |
| | | Includes detailed compliance reports for DoD , HIPAA, GLBA, and Sarbanes-Oxley regulations. |
| | | Run targeted reports on specific devices, policies, and alarms. |
| | | Export reports in over a dozen formats including PDF, HTML, XML, and Microsoft Word. |
General
The AirMagnet Laptop Analyzer is completed with a variety of features that make it the most flexible and capable solution on the market.

| | | |
| --- | --- | --- |
| | | Concurrent real-time support for 802.11a, 11b, and 11g network infrastructure. |
| | | World Mode supports all channels in use worldwide, including "undeployed" bands. |
| | | GPS Support |
Note: Laptops are sold separately
---
REVIEWS
---
SCREENSHOTS