AF2100 security gateway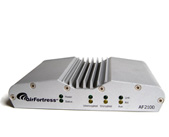 Click for price quote or call us at 860 202 9402
AirFortress Security Gateways provide the essential trusted relationship between wireless devices, users and the secure network infrastructure. The efficient, cost effective protection for the privacy and integrity of your corporate applications and network resources is now a simple plug-and-play option.

The AirFortress Model AF2100's small, sleek, yet versatile design makes this solution perfect for deployment at the edge of any network. Its durable, fan-less design made this product the choice for the U.S. Army's Combat Service Support Automated Information System Interface (CAISI) project. Even if your requirements are less demanding, your network deserves the same level of robust security. The AF2100 can reliably provide secure service for several 802.11b access points simultaneously.

The highly integrated and modular design of Fortress' design enables flexibility and scalability. All critical security operations—encryption, authentication, data integrity checking, key exchange, and data compression—are optimized to minimize hands-on management.