Airfortress AF2100 review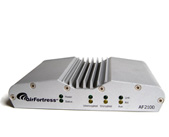 click here for more information
The AF2100 is a security gateway device with two ethernet ports. The encrypted interface plugs into your wireless access point directly or via a VLAN. The unencrypted interface plugs into your wired network. The gateway is configured with a web browser or a console port a 16 digit hex access id is keyed into the gateway. Only stations with the AF client and the correct access id will be allowed to access the wireless network at this point. The AF2100 can also be used with the Fortress ACS server to provide user authentication and access id re-keying.
The AF client can be installed on windows, pocket pc including symbol bar code scanners and MSDOS devices. The client will bind to all the wireless and optional the wired interfaces on the client. The 16 digit hex access id is keyed in. When the client associates to the access point connected to the encrypted interface of the AF2100 a secure tunnel is established end to end. The client has a setting to disable encryption for use on other wireless networks the administrator can optionally remove this option. If encryption is disabled or a station does not have a properly configured AF client the AF2100 will not allow any traffic to pass.
In closing the AF2100 is one of the best options for wireless lan security. It provides solid encryption of all wireless traffic end to end with little administration overhead. Because the AF client secures all traffic before leaving the interface other 802.11 security standards are not needed.