EnGenius locator program resets AP and finds lost IP address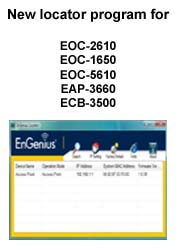 click here for more information on the ECB3500

EnGenius just released a locator application that can find a access point on your local network. You may have lost the IP address or be unable to access the web interface from your computer. The program uses a broadcast to locate the device so you will need to either be connected to the unit directly or via a hub or switch. The program can even find the device if it is in bridge mode and connected back to your local network via WLAN.
This program makes it even easier to manage your EnGenius network. You can use it to audit and record IP and MAC addresses and firmware versions all in one step. This will also make configuring WDS repeater easier by having all the needed information available.
Simply run the program and press search, it will detect all devices and give you the options to reset to factory default, change the IP address or connect to the web interface.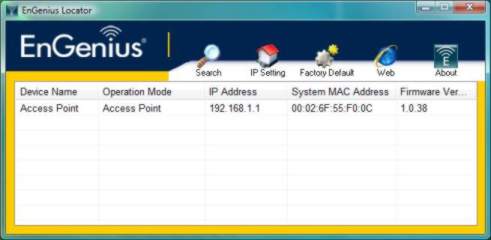 The program is available for download here
and it works with firmware v1.0.37 or above on the following models:
EOC-2610
EOC-1650
EOC-5610
EAP-3660
ECB-3500