Wi-Spy 2.4x w sma connector 2400x2v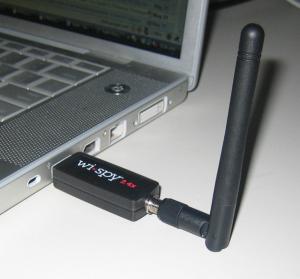 New 2.4x version best for business users. Has external SMA connector and better signal resolution.
Works great in the WISP and Hospitality markets.
The coolest, smallest, most convenient 2.4GHz 802.11 b/g/n spectrum analyzer* is now available with an updated detachable antenna!

Wi-Spy™ is the perfect, low cost, high performance option for troubleshooting interference from the following devices:
Wi-Fi (802.11 b/g/n)
Microwave Ovens
Cordless Telephones
Zigbee
Bluetooth
Other electronics in the 2.4 GHz spectrum
Troubleshoot interference problems that slow performance or cause connection drops
Locate specific devices that are causing interference,
Ensure your APs are providing reliable coverage in the face of interference with spectrum audits
Seek out legacy non-compliant 802.11 equipment
Locate equipment that is operating out of power transmit specifications.
Determine if neighbors are interfering with your WiFi network.
You may need Wi-Spy if:

You deploy and maintain Wi-Fi networks at work.
Your Wi-Fi has intermittent bandwidth problems
When the phone rings your network connection drops
Your neighbors, family, and friends constantly call you for free tech support
Hardware / software and antenna included
Antenna RP-SMA
Bandwidth 2.4 - 2.4835 GHz
Frequency Resolution 328 KHz
Amplitude Range 0.5 dBm
Amplitude Resolution 0.5 dBm
Sweep Time ~165 msec
Supported Operating Systems Windows, Mac OS X, Linux