EnGenius ECB-3220 400mW AP bridge review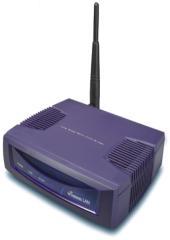 CLICK HERE FOR MORE INFORMATION
OVERVIEW:
The ECB-3220 is the latest long range product from EnGenius Technologies. It offers both high power and receive sensitivity to make it one of the longest range wireless devices available.
FEATURES:
supports standard 802.11bg protocols so any compliant device will be able to connect.
detachable antenna with standard RP-TNC connector
supports 48v POE (power over ethernet) or 12v power cube included
security features include WPA2/WPA/Pre Share Key (PSK)/AES/TKIP MAC address filtering
WDS repeater
SNMP
The device offers three modes:
In bridge mode it will connect to other access points (point to multipoint) or client bridges (point to point). It is a multi client bridge so you can bridge one device or plug into a switch and bridge a number of devices.
In bridge router mode the WLAN interface will connect to other access points or bridges and do NAT (network address translation) between the two networks.
In access point mode it allow other clients to connect.

The ECB-3220 has configurable power levels in all modes. You can select power levels from the advanced menu. the device ships configured to the lowest level.

Under basic access point setting you can select B, G or BG modes and show connected clients.

The ECB-3220 supports all current 802.11 security modes including:
WEP, WPA, WPA2, EAP-MD5/TLS/ TTLS support in Access Point Mode and WPA/Pre-share Key(PSK)/TKIP in bridge mode.
It also supports MAC filtering and client isolation

The ECB-3220 has full SNMP support in AP and bridge modes.

The ECB-3220 supports WDS bridging with another ECB-3220. WPA security is supported under WDS.

PERFORMANCE:
We tested the ECB-3220 along with a Linksys WRT54g. The ECB-3220 was put in Extreme power mode on channel 11 the WRT54G was set to channel 1. Both units were equipped with the stock 2dBi antennas.
The access points were placed on the second floor. We tested signal strength and connection speed using AirMagnet Survey Pro and the 5354CB wireless card.
We tested on the first floor and outside the house:
ECB-3220 signal strength

WRT54g signal strength:

Connection speeds:
ECB-3220 connection speeds

wrt54g connection speeds

CONCLUSION:
The ECB-3220 signal strength and connection speeds speak for themselves.
With 400mW of available power and best in class receive sensitivity of -94dBm the ECB-3220 blows everything else out of the water including 802.11n solutions that are expensive and not interoperatable with standard 802.11bg devices..
While most vendors push speed to market new products cable and DSL speeds top out at 8Mbps EnGenius knows that range is the most important factor.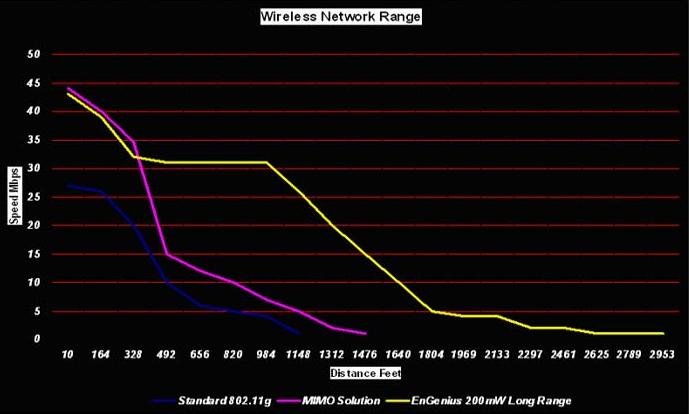 MORE INFORMATION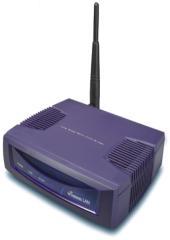 For more information on to purchase the ecb-3220 please CLICK HERE