AirMagnet Enterprise 6.0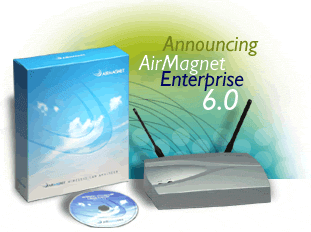 Buy AirMagnet products here at keenan Systems the wireless network experts. Our many customers large and small trust AirMagnet to keep their Wi-Fi networks secure and performing well.
Let us show you how AirMagnet Enterprise will work with your wireless networks.
You can now use Cisco 1100 and 1200 series Access Points as scanners Contact us for details!
Don't buy AirMagnet just anywhere
We have the best prices.
We are an authorized AirMagnet reseller.
All products come with one year free updates and support.
We know the products inside and out and can answer detailed questions.
Click for price quote or call us at 860 202 9402
Click here to request on site demo
---
AirMagnet Enterprise 6.0 introduces many new features including
Cisco APs as dedicated Scanners that forward frames to AirMagnet Enterprise Server for processing.
Mix and match SmartEdge Sensors and Cisco AP Scanners
Integrating compliance reporting showing if the WLAN is compliant with US directives SOX, GLBA, DoD, HIPAA
Zero configuration sensor deployment and new performance alarms
AirMagnet Enterprise 6.0 creates an airtight seal over your wireless networks, quickly identifying and neutralizing any threats that arise. This is done through the marriage of continuous threat detection with a suite of active defenses that respond to any event automatically. AirMagnet Enterprise detects more than 135 wireless problems and automatically defends the network in real-time as threats arise. Intrusion prevention measures include wireless blocking to stop threats at their source and wired blocking to protect the wired network from intrusions. Blocking measures can be triggered either manually or automatically, and AirMagnet can alert specific staff members or resources with over a dozen configurable notification and escalation methods.
Key Features of the AirMagnet enterprise Solution Include:

Automated Intrusion Prevention
When threats arise, AirMagnet Enterprise actively protects the network with multiple layers of automatable defenses. This layered approach insures that technical teams are always armed with tools appropriate for every type of threat.

Wireless Blocking
Wireless blocking gives managers the ability to reach out and stop wireless threats at their source. When a device is blocked wirelessly, it is unable to make or maintain any wireless connections, effectively locking it out of the network. Any client, AP, ad hoc device, or network attacker can be selectively targeted and blocked without impacting the normal operation of the network.

Wired-Side Blocking
AirMagnet Enterprise also includes the ability to trace and block threats at the wired switch port. This provides a complementary layer of protection that shields the wired network from threats
originating in the WLAN.

Locate Threats
AirMagnet shows the location of rogues and intrusions on a map of the location. Staff can immediately see if a threat is inside or outside the premises, and can target responses appropriately.

Device Tracing
When a threatening device is identified in the network, AirMagnet can launch active wired and wireless traces to expose where the device is attached to the wired infrastructure.
Each AirMagnet Sensor can trace across multiple switches, ensuring that every
corner of the network is inspected.

Automated Response
AirMagnet's defensive suite can be tied to policy and triggered automatically. This insures networks are protected 24 hours a day, even when staff are not readily available. When an attack is
detected, AirMagnet comes into action to immediately defend the network.



3D Rogue Control
Rogue devices represent a very real and omnipresent threat to any wireless network. AirMagnet provides a complete approach to rogue management that includes the ability to Detect, Disable, and Document every rogue. Multiple detection mechanisms immediately expose every rogue, an active blocking suite can disable the rogue both on the wireless and wired side, and a dedicated rogue page provides consolidated details on every device including its physical location on a map, wired trace analysis, event history and more.


Full Disclosure Policy Management
AirMagnet Enterprise includes pre-configured policies tied to specific industry and regulatory, including health-care, financial, government, retail and many more. The solution also includes a completely customizable policy manager to address the unique requirements of any organization. The AirMagnet Console features streamlined analysis of policy violations in terms of location, time, hardware, and policy type. AirMagnet Enterprise notifies users of violations instantaneously via SNMP, pager, email, IM and a variety of other methods.



SmartEdge Architecture
AirMagnet Enterprise is the only solution to perform a complete wireless analysis locally in the network itself. Our unique SmartEdge Sensors analyze every wireless packet, device, and conversation for security and performance problems. This unabridged wireless view allows AirMagnet to identify twice as many intrusions as any other vendor. In addition, by removing the need to forward large amounts of data for remote analysis, the SmartEdge Sensors require 50 times less bandwidth than other solutions. Each AirMagnet Enterprise Server can support over 1,500 SmartEdge Sensors, allowing AirMagnet to scale with any network.


Industry's Most Trusted Security and Performance Troubleshooting Solutions
AirMagnet Enterprise gives administrators a professional set of resources to troubleshoot their wireless networks remotely. Enterprise's remote toolkit works identically to AirMagnet's mobile analyzers, already trusted by thousands of enterprise users as the gold standard for wireless LAN analysis and troubleshooting.


Call for Pre Sales Support 860 202 9402
---
AirMagnet Enterprise
A5504

AirMagnet Enterprise Starter

Suite

4 sensors, one Enterprise

Server (software), one

license, unlimited consoles,

Enterprise Reporter

A5010

Additional sensor

One Enterprise hardware

Starter Suite)

A5010S

Additional "Silent" sensor

Hardware sensor with all remote

disabled, always radio-silent

A5012

Additional sensor with

removable antenna

Sensor, 802.11a/

antenna

A5504U

Upgrade to A5504

For existing A5501 customers to add

unlimited consoles and Reporter

A5505

Additional Enterprise Server

One Enterprise Management

software), one back-up server

unlimited consoles, unlimited

Reporter. No sensors.

A5014

Additional sensor power

supply

Extra power supply for sensors

A5015

Power Injector (PoE)

sensor

1 Power injector, supplies power-over-

Ethernet for sensors

A5016

Sensor mounting bracket

Optional bracket for wall/ceiling mounts